Indigenous Anglican priest works to reconcile the two sides of his identity: a "wonderful conundrum" of traditional cultural and spiritual practice and Christianity
Story by Jacob McNair
Feature images by Jacob McNair
Father Chris Harper talks about bridges a lot. It's probably because he's had a foot in two worlds his whole life.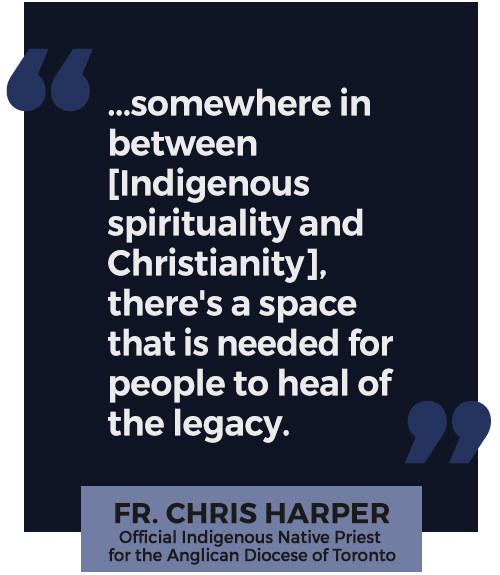 In September 2016, Harper was appointed official Indigenous Native Priest for the Anglican Diocese of Toronto, charged with providing religious services and pastoral care for all of Toronto's tens of thousands of Indigenous people.
"I'm trying to find the Indigenous people," he says. "It sounds weird, doesn't it? In a city this size, trying to find where the Indigenous people are and trying to hear their voice and their cry for what kind of form and shape of ministry needs to happen within the near future." While his predecessor, the retired Rev. Andrew Wesley, focused (and still focuses) on street ministry, Harper is taking that ministry in a different direction.
Phase one: touring Toronto's Anglican churches and filling them in on everything from the church's history with Indigenous peoples and the residential school system to the missing and murdered Indigenous women and the Truth and Reconciliation Commission's calls to action. Phase two: establish some kind of permanent, stable worshipping community or parish for Indigenous Christians, with forms of service reflecting their own spirituality which can be used across Canada.
Harper, who is Plains Cree, grew up on a reserve in Alberta in a "wonderful conundrum" of traditional Plains Cree cultural and spiritual practice mixed with regular attendance at Sir Geoffrey Paul Memorial Church. After working in a series of jobs ranging from ambulance medic to entrepreneur and lecturer, he was volunteered by his family to read Scripture at one of the declining church's increasingly rare services. "Before I knew it, I ended up being a lay minister-in-charge." Wanting to know what he was talking about, he started studying theology part-time, and when his bishop suggested that he actually become a priest, he did his Master of Divinity degree at Toronto's Wycliffe College. His first parish assignment? Serving as incumbent priest for three rural churches, plus part-time work at six others: that's nine churches for 10 communities on and off-reserve.
Harper compares his attempt to reconcile Indigenous spirituality and Christian religion to standing in no man's land, "that space between the trenches … that both sides are firing at." To this day, the services he holds for Indigenous congregations come in two very distinct parts: the service outside the church building, which can feature smudging, four-directions prayer, and other Indigenous spiritual traditions, and the service inside the church building, which is very much bound to the church's service book. "From the traditional end, they're firing away at me … as my own relatives have said, 'Why are you part of a church, and a religious entity, that has worked to destroy our people?' And I always turn it back to them and say, 'What better place to bring healing?'
"And then from the Christian side, they're … firing again at the cultural and spiritual aspect of the Indigenous peoples, because in an intellectual [Christian perspective], 'What about animism, pantheism, syncretism?' … and both sides are yelling and screaming, 'You can't destroy or minimize' – bastardize, if you will – 'our faith and our faith practice for something that it wasn't meant to be!' But somewhere in between there, there's a space that is needed for people to heal of the legacy."
The idea of creating one service that can be used by the different Indigenous peoples from coast to coast to coast is daunting, but Harper thinks Anglicanism has room for it. Citing the church's history of adapting the same prayer book to Anglo-Catholic and Evangelical expressions of faith, he believes that one service text that emphasized the congruity of the two spiritual traditions' essential principles could be acceptable to most people…
…but never to everyone. Harper remembers holding a funeral at one of his first parishes where, at the request of the family, the grandchildren of the deceased sang a traditional honour song at their grandfather's casket, and then family members drummed the casket out to the gravesite. Harper thought the service was great, but at church the next Sunday, elders from the reserve came up to him and said, "If you want to do those Indian things, either we'll leave or you'll have to find another church."

Although few in number, there are other places across North America where Christian churches are working with Indigenous ministers and communities to allow them to worship in their own traditional ways.
A lot of Harper's job involves listening, even (and especially) to people who see him in a clerical collar and call him a traitor to his face. "They need to express [their anger], they need to get it out, they need to see it with their own eyes." Part of the trick, he says, is remembering, as a priest and therefore a professional talker, to "shut up" and let other people tell their stories.
But every so often, he has a response. "[People say] 'My parents were in a residential school. Haven't you learned? Haven't you learned our own legacy and how we were destroyed?' So my response is, we need peace. God offers peace. Jesus said it to his disciples three times, because they needed it! They were terrified, you know, after his death, and when he appears in front of them, 'Peace be with you.' Because they didn't get it. And they needed it so bad. And that's what we need to do."
Email Jacob McNair at jacob.mcnair@ryerson.ca