Indigenous cuisine is finally starting to make its mark in Toronto, but why has it taken so long to flourish in a city renowned for its global food scene?
Story by Michael D'Alimonte
Feature images by Michael D'Alimonte
Toronto is a city with a food scene as diverse as its population. From Ethiopian to Thai, there's a restaurant representing the culture of just about every community that calls Toronto home. But, up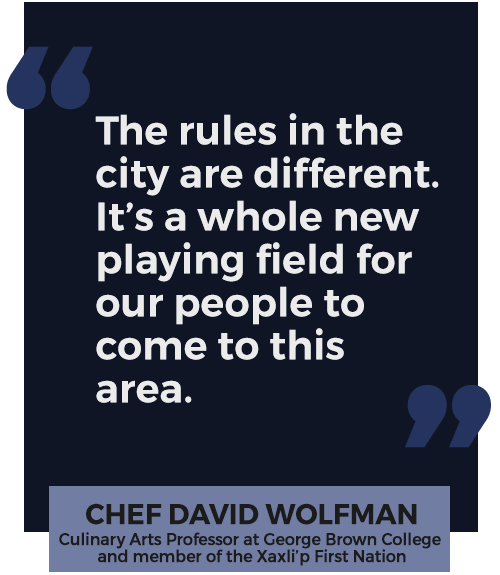 until recently, the foods of Indigenous people in Toronto were absent from the city's food scene.
Toronto is only now beginning to represent Indigenous food culture. Eight years ago, Toronto didn't have a single restaurant serving Indigenous cuisine. Soon, that number will jump up to five. But why has it taken this long for Indigenous people to carve a place in Toronto's food scene?
The answer isn't exactly simple.
Indigenous cuisine in Toronto: A recent history
Toronto's first Indigenous restaurant opened in January of 2000. Dubbed the Eureka Continuum, the restaurant operated out of The Coloured Stone, a billiards spot and bar located at 205 Richmond St. W.
Both The Coloured Stone and Eureka Continuum were owned by Duke Redbird, a well-known poet and journalist from Saugeen First Nation.
The restaurant's menu was "an updating of old recipes" Redbird told the Toronto Star in a feature dated June 2000. Redbird describes Indigenous food as "simply cooked," but the chefs at Eureka were "updating…old recipes…in a contemporary way." Wild game was a prominent feature of the menu.
Eureka made a splash on the Toronto food scene, but closed after a year nonetheless. According to Redbird, in a Toronto Star article from 2002, Eureka was a "money maker" but the restaurant was forced to close when the rent increased after new landlords took over the space.
Former sous chef at Eureka Continuum, Chef Dickie Yuzicapi, of Dakota and Cree background and better known as "The Sioux Chef," the name of his popular catering company operating out of Regina, confirms the restaurant's former popularity.
"We made quite a bit of noise" says Yuzicapi, who describes how, on any given night, the 55-seat restaurant would turn over 4 rounds of guests. Yuzicapi does admit that Eureka Continuum's early success may have been because it was a fad, as no other Indigenous restaurant existed in Toronto.
And after Eureka Continuums closure, that would be the status quo in Toronto for nearly a decade.
2009 brought Toronto its second Indigenous restaurant, Tea-N-Bannock. Focused on serving Indigenous comfort food, Tea-N-Bannock is a community space along with being Toronto's longest-running Indigenous restaurant.
Keriwa Café, opened in Parkdale during the summer of 2011, was a different type of Indigenous restaurant. Lead by Algonquin chef Aaron Joseph Bear Robe, Keriwa Café was a fusion of Indigenous food traditions with modern culinary techniques and influences.
Despite rave reviews, Keriwa closed its doors in 2013 (Bear Robe now manages The Wine Academy) putting the number of Indigenous restaurants in Toronto back down to one.
Then, in October 2016, Indian Taco joint Pow Wow Cafe opened in Kensington Market, sparking what seems to be a surge in Toronto Indigenous restaurants. Two more Indigenous restaurants are set to open in 2017: NishDish Marketeria, an Anishinaabe restaurant in Koreatown, and Kū-kŭm, from Chef Joseph Shawana opening in Davisville.
Each restaurant is quite unique, as anyone can see from taking a look at their menu. Tea-N-Bannock is all about comfort foods, Pow Wow Cafe serves up Indian Tacos, and Kū-kŭm (along with Keriwa before it) takes a more high-end culinary approach.
There is type of "cultural negotiation" going on in these restaurants, points out Sasha Gora, a PhD candidate studying contemporary Canadian cuisine.
There is a "confrontation when eating food" says Gora, explaining that it is important to "think not about just the presence of these restaurants, but also their respective representation of Indigenous cuisine."
Influences on Indigenous cuisine: Then and now
But Indigenous cuisine, as a concept and practice, is a fairly recent creation. Indigenous food traditions, however, have existed for thousands of years.
Not necessarily a cultural custom focused on eating "this" or "that," Indigenous food traditions are linked to locality and the land.
"It goes right back to ties to the land and the harvesting of the food and the sustaining of the food" says Nancy Turner, an ethnobiologist at the University of Victoria who has extensively researched Indigenous food practices.
"It's all a part of a tradition that goes with stories and ceremonies and spiritual connections with the land."
Another important aspect to what has informed modern Indigenous food is Canadian colonial history.
Forced to live on reserves where hunting and harvesting was a restricted practice, Indigenous communities were given rations by the Canadian government which included only the most basic of ingredients.
"There were those recipes that were created from what's available, essentially due to the outcomes of the Indian Act" says Elisa Levi, who teaches Indigenous Food Security at Ryerson University and is of Anishinaabe descent.
"There were food provisions provided, like flour and sugar, and from that came the scone. It's [a dish] that stays in memory because it was always prepared."
The same kind of history is attached to bannock, a fried bread dish that is eaten by many Indigenous communities in North America. For more on the history of bannock, read the infographic at the bottom of this page.
So how are modern Indigenous chefs are taking their heritage, mediating between the old and new, and using it to create an Indigenous cuisine? Let's hear straight from the source.
Chef David Wolfman, Culinary Arts Professor at George Brown College and member of the Xaxli'p First Nation, is well-known for his unique brand of "Aboriginal fusion." Chef Charles Catchpole, from Couchiching First Nation, runs Barrie-based Indigenous catering company Charger Foods. Along with Chef Dickie Yuzicapi/The Sioux Chef, you can find audio quotes throughout this piece, as each chef explains their cooking practices and answers "what is Indigenous food" in their own words.
Just click on "listen" to hear from them.
The surge in Indigenous restaurants, explained
But the question still remains: why, after years of absence, are Indigenous restaurants starting to pop up in Toronto?
Chef Shawn Adler, who owns and operates Kensington's Indian taco joint Pow Wow Cafe, has a simple answer for why Indigenous restaurants are on the rise: the end of residential schools.
"I'm the first generation to not go to residential schools" says Adler. "Because of that, I have the opportunity to do, whereas others before me didn't. That's why, right now, you'll see successful Indigenous people in every facet of society."
Indigenous restaurants aren't a simple fad. More and more Indigenous people are entering the field of culinary arts, as they are now able to grow up in, celebrate, and share their culture through food. That means great things for a diverse Toronto food scene, as Indigenous restaurants provide an avenue to experience a culture that has been historically ignored by the city, and Canada at large.

Email Michael D'Alimonte at michael.dalimonte@ryerson.ca