Indigenous people are disproportionally affected by violence and in Winnipeg, two local organizations are taking the matter into their own hands
Story by Olivia Zollino
Feature images by Olivia Zollino
WINNIPEG–On a cold, dreary late-March evening, the sound of police sirens seemingly blends in with the chatter of tweens the longer you stay on Selkirk Ave.
At 6 p.m., a stream of people in neon-yellow safety vests funnel out of the Ndinawe Youth Resource Centre. A bear paw is embroidered onto the breast pocket of the vests, held together with Velcro and worn over puffy winter jackets. One man is wearing a belt with a plastic yellow bucket for needle disposal at his waist. The temperature is below zero, but no one seems perturbed.
It's Friday night, and the Bear Clan is ready to patrol.
What is the Bear Clan?
Read the transcript
At its very core, the Bear Clan Patrol is a community-led organization dedicated to providing a safe presence on the streets of Winnipeg. Volunteers walk five times a week year-round ensuring the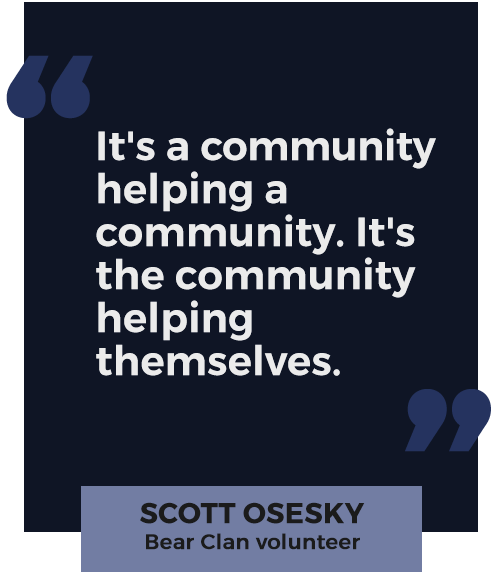 neighbourhood is safe, whether that's in the form of checking up on people, picking up used needles, or simply waving to people they pass on the street.
Ross Eadie is the Mynarski ward councillor, the area where the Bear Clan patrols. He says while his ward is a vibrant and multicultural area where new immigrants seek opportunities in starting small businesses and owning homes, it also has its issues. The area has a high rate of property crime, women being used in the sex trade, and violent crime.
Between 2014-15, there was a six-per-cent rise in violent crime in Winnipeg. The North end, which encompasses the Mynarski ward, was among the highest areas for violent crime, with 2,179 incidents.
The Bear Clan regularly interacts with those on the fringes of society, be it sex workers or drug addicts. Part of their mandate is "to assume our traditional responsibility to provide security to our Aboriginal community."
Their goal is to provide safety without using violence. Instead, they reach out to those in need and provide resources and donated supplies, without judgment.
"When the Bear Clan is out there, they treat them like people," says Eadie. "They're respectful and they make sure people are good."
For many of the Bear Clan's volunteers, their compassion is guided by their own personal experiences, like Susan Chief.
Chief says her past life experiences have given her an informed perspective with the people she meets while out on patrol.
"I've lived on the streets, I know everything that goes on in the streets, and so it's just my way of giving back and helping out," she says. "If you lived it then it's a lot easier to understand what they're dealing with and it makes it that much easier to deal with the situation."
Bear Clan Route
Scott Osesky joins Chief on the Friday night patrol. Despite being told he needs to undergo knee surgery, and already having undergone surgery for his other knee, Osesky remains a dedicated volunteer.
He says it's part of his journey.
"I've lived a different life than most of the other Bear Clan," says Osesky, referring to his lengthy criminal record.
He's a former gang member and motorcycle club member and says he has spent over 25 years of his life in incarceration.
"It's just my way to give back and to help me heal, trying to do good things," says Osesky. "If I can help the young ones around here at the youth centre and on the street to not go the same route that I did, then I believe that's a good day."
The Bear Clan began in 1992, but stopped shortly thereafter once the organizer passed away. James Favel rejuvenated the organization in 2014, and the Bear Clan has since grown to over 420 members.
Since then, several organizations similar to the Bear Clan model have opened up across Canada, including the Mama Bears, a female-led, male-supported organization north of the area that the Bear Clan patrols.
The groups are not directly affiliated, but they're built on a similar model.
Candace Nykiforuk, a member of the Mama Bears, says women at the North Point Douglas Women's Centre were inspired by the actions of the Bear Clan, and wanted to do their part.
"Some of the women that come are actually relatives of some of the missing and murdered women that are out there," she says. "It's up to us women to take our stance again and become the leaders we were with our ancestors."
Mama Bears look to become leaders in their community
Read the transcript
Several communities are eyeing their own Bear Clan, including Toronto, which expects to begin patrolling later this year.
"It's a community helping a community. It's the community helping themselves," says Osesky of the Bear Clan model.
According to Eadie, they've been well received by those living in the area.
"The Bear Clan is going out at night, when a lot of violence and things are happening," he says. "So the community itself has a lot of respect for them and appreciate all the patrolling that they do."
While the Bear Clan are volunteer-based, they regularly receive donations, such as a defibrillator donated by the Paramedics Association of Manitoba. Members are also trained to administer some first-aid.
Osesky recognizes that the Bear Clan has limitations and that there are situations where the police or paramedics are required. He says the Bear Clan are that gap between the community and the police.
Eadie says the Bear Clan are partners of the Winnipeg Police Service.
"We can't have a police officer on every corner. It's unaffordable," Eadie says. "These citizens have stepped up and they're out there making sure our neighbourhoods stay as healthy as possible."
Regardless of whom you ask in the Bear Clan, it seems as though everyone has a memorable moment where a citizen was saved because they just happened to be in the area.
For Osesky and Chief, it's an incident that occurred while the Bear Clan was helping out at a recreation centre last Halloween. A machete attack happened around the area and a man had two of his fingers severed. Chief and Osesky performed first aid until paramedics arrived. His fingers were saved.
"You just do what you got to do," says Osesky. "You just do what you gotta do to help the kid. That's the training that's been provided by the Bear Clan."
Email Olivia Zollino at ozollino@ryerson.ca