How the story behind the popular Pendleton blanket weaves into the long and complicated history of Indigenous appropriation in fashion
Story by Ross Dias
When Joseph Rawnsley created the pattern of Chief Joseph blanket featuring repeating blocks of colourful shapes 100 years ago, he probably would have no idea that today his design would cover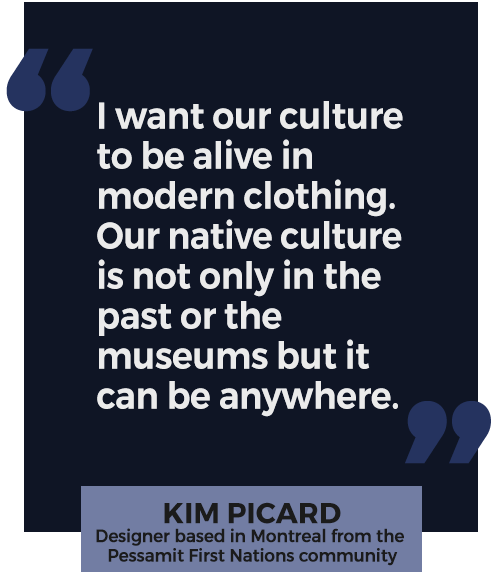 everything from laptop cases to designer shoes.
Rawnsley also could not have understood the magnitude of that pattern's relevance today. The blankets by the company were embraced by Indigenous populations because they were needed as items of clothing and looked better than the multi-stripe variety of the Hudson's Bay Company, not because of any other special significance in their pattern. But, over time the pattern has come to be associated with Indigenous identity.
Rawsley was an expert at the Jacquard loom after graduating from the Philadelphia Textile School. He spent time on Native reserves. while researching the blanket and he was influenced by Navajo patterns but combined those with geometrical shapes from oriental and European designs.
"He studied ceremonial designs, basket weaving designs and created beautiful blankets incorporating these elements. For Pendleton, Indigenous peoples are fundamental to our history, business and future," said Linda Parker, a representative of the company, in an email. "Pendleton, has always crafted only the best quality blankets; Native Americans regard 'blanket' and 'Pendleton' as synonymous."
Still, seeing this imagery as "fashion trends" a few years ago when Pendleton released collaborations with retailers including Levi's, Opening Ceremony, and Vans irked Indigenous communities online, who believed that looking as the design pattern as a fashion trend would mean at some point, their culture could be seen as a passing fad. Colours, patterns and imagery do have particular significance to some Indigenous people (and signify different things to different people), often reflecting on traditional ceremonies of nations.
"It's a very personal decision to receive [your colours] and for some people, they don't feel ready until they are older. For others, they are raised in the culture and they receive it when they're younger. I didn't receive mine until I was 21, almost 22 years old," said Jamie Lee Morin, a Métis woman and community outreach coordinator at Ryerson University.
Listen to Jamie Lee Morin, a Métis woman, talk about how she received her colours and what they mean to her and watch as a pattern for a sash for Morin is designed: 
Read the transcript
"I really like to support and endorse Native designers and the work that they are doing," said Drew Hayden, an author and playwright, who is Anishinaabe from the Curve Lake First Nation. "I make it a point to buy as much Indigenously-designed clothing that I can."
Hayden is positive about the exchange of culture through the blanket. He says that clothing designed by Indigenous designers do incorporate "non-traditional" designs and materials, including silk, satin, canvas and cotton. "All of these materials were not used in traditional clothing. Why should a Pendleton blanket be any different?"
In the 2015 book Me Artsy, edited by Hayden, designer Kim Picard, who uses appliqués and embroidery inspired by her Innu, Algonquin and Mohawk cultures, writes, "In the days of our ancestors, each piece was unique and carefully created on the spur of the moment, in an artistic way, even spiritual. It could takes several weeks or even months to create a unique piece that would be worn with honour and pride."
Hayden has also noticed a concept he refers to as "pan-Indianism." Symbols like the west-coast raven, dream catchers have become ubiquitous in the various Indigenous communities. "In this era of mass marketing and production, Native design has gone national. They are no longer nationalistic, they've gone national and even international. You go to any Native gathering, you see people wearing Haudenosaunee designs, Anishinaabe, a Hakim blanket and Cree designs, and they are not necessarily from that particular nation. It's just a celebration of pan-indian design and support."
"I want to show people the beauty of our culture. I want our culture to be alive in modern clothing. Our Native culture is not only in the past or the museums but it can be anywhere," said Picard in an interview for this website. "I find that it's easy to combine [traditional and modern design] because I did a lot of research in the past about my own culture, talked to the Elders and visited museums to make sure my designs are appropriate and not culturally inappropriate as I see in many fashion shows. For me, it's very important to honour our ancestors."
While Pendleton does collaborate with Indigenous artists, it remains owned and operated by the non-Indigenous Bishop family, profiting from Indigenous and non-Indigenous customers.
Follow the century-long history of the Oregon woolen mill, the Bishop family and Pendleton's infamous patterned blanket designs: 
Read the transcript
In 2016, Pendleton officially entered the Canadian market by collaborating with Indigenous-owned and operated Manitobah Mukluks, run by Sean McCormick. In the past, the company appeared in Canada through their e-commerce site and special displays at stores like Holt Renfrew.
"We sought out a partnership with Pendleton because we saw an amazing potential for selling their products and sharing their story in Canada," said Tara Barnes, the Director of Brand Development of Manitobah Mukluks, in an email.
"Our philosophy is to welcome all feet that want to walk with us. Mukluks and moccasins are some of the most practical footwear for Canadian landscapes and weather – they have kept Sean's people alive for thousands of years!" said Barnes. Like mukluks and moccasins, blankets are not considered sacred symbols such as headdresses. So the company welcomes all people to purchase their footwear and also encourages people to also support other Indigenous designers trying to make a living from their art and culture.
Email Ross Dias at ross.dias@ryerson.ca