Small but significant steps are being taken after years of colonization, exploitation and racial prejudice have resulted in a tenuous relationship between traditional healing practices and Western medicine
Story by Devika Desai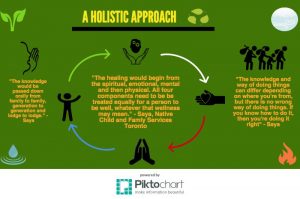 Joanne Dallaire is descended from a matrilineal line of medicine people. Her great-grandmother, grandmother and aunt, all identified as Indigenous medicine women in the early 1900s. Around
this time, discrimination against all aspects of Indigenous heritage and culture had become so widespread that it forced many to take their traditions underground, away from the eye of the government, a drastic veer from an attitude that once encouraged sharing knowledge within the Indigenous communities as well as with non-Indigenous people.
"The worst thing you could do at that time was be an Aboriginal medicine woman," said Dallaire, resident Elder for Ryerson University and a Cree Omushkego woman. "What would happen is that all these people, non-Natives, would come to my grandmother for medicine and to tell them what's wrong. She would give it to them and tell them how to use it. And then they would call her names and shun her."
Although it is Indigenous tradition to pass down family knowledge to the next generations, according to Dallaire, "no one else wanted to be involved with it. No one was going to take on the job of helping people who were gonna call you names and throw things at you when they saw you in their town," she explained. There were some, she said, who had continued to practice traditional ways of being and ceremonies, but it was hidden and kept secret.
Dallaire's story isn't not an unusual one. It illustrates simply one of the many reasons which have collectively resulted in a still tenuous relationship between Indigenous medicine and the western medical system. Although steps have been taken in the past two decades to forge a more harmonious relationship, the decades of colonization, exploitation and racial prejudice have resulted in a sense of vigilance around the knowledge that remains and a deep mistrust in sharing it.
"There's mistrust everywhere from Indigenous people, from the way the police have treated us, the way the education system has treated us, the way journalists have especially treated us," says Dawn Maracle, a Mohawk woman, who works in Indigenous medical education at the University of Toronto. "So it's not trusting who to share the information with."
This mistrust that Maracle refers to often leads to issues of access. "We have healers that people go to, but there's no database of Indigenous healers," she said. "You have to meet people in the community and then talk to the right person."
She did add though that there has been action taken to provide Indigenous patients with the option to access someone, i.e, a healer, a medicine person, in their communities. "For example, Cancer Care Ontario, where I used to work, has an Aboriginal cancer unit, where there are Indigenous people working to help support Indigenous people with cancer, " Maracle said. Indigenous patient navigators have also been employed to help connect Indigenous peoples with others in their community.
However, there is still a long way to go before traditional healing can be fully acknowledged by the mainstream healthcare system.
"I'm hesitant about integrating Indigenous medical practices into existing medical system," wrote Margaret Robinson, a Mi'kmaw scholar and member of the Lennox Island First Nation, in an email. "The Canadian and U.S. systems have an understanding of the human being, of illness and wellbeing, of ethics, that is very different from how Indigenous people understand these concepts. Bringing Indigenous practices into the medical sphere without changing power relations or norms might lead to co-opting Indigenous medicine, rather than real change."
Unlike western medicine, which treats only the direct illness, Indigenous medicine is aimed at treating the whole person, mentally, spiritually and physically. "We believe that that's the foundation of everything," said Dallaire. "We live in a culture that only promotes the mind and body. Nobody cares what you feel and nobody really cares what you believe, because that isn't really deemed as important and valuable."
In 2000, Algonquin Elder Annie Smith-St. Georges founded WÀGÉ (pronounced w-ah-gay), a health centre that integrated Indigenous, alternative and western medicines on a model based on the medicine wheel. "If I didn't have all of the alternative and the medical (care), I wouldn't be here today," she said.
The loss of her son, her mothers and other circumstances in a short period of time had, said Smith-St. Georges, left her so overcome by Post-Traumatic Stress Disorder (PTSD), that she couldn't function normally.
"I was literally 24 hours on the floor. I wasn't able to stand or walk, I'd be shaking," she recounted. During that period of devastation, she slept, cooked, peeled potatoes, all off the floor. "That's how devastated I was, physically, emotionally, mentally and spiritually. I didn't believe in anything because I was hit so badly in such a short period of time."
It was with the help of doctors practicing western medicine, Elders administering traditional healing and practitioners of alternative medicine, says Smith-St. Georges, that she was able to recover. "Now I do not exclude any of those areas. I include everybody because I knew I needed them myself."
Smith-St. Georges based WÀGÉ on the model of the medicinal wheel. This meant that not only were a variety of medicinal practices offered at the centre, but also each practice was interconnected through wholesome relationships between the practitioners, including herself as the medicine person. Although it initially drew skepticism from the community, WÀGÉ gradually flourished, also attracting to non-Indigenous clients, who would stay at the centre for the whole day until closing time, Smith-St. Georges recalled. As the staff grew older, WÀGÉ was soon shut down, but it left a promise of what the future could hold for a relationship between Indigenous and western medicine.
That's not to say that Smith-St. Georges isn't aware of the current skepticism held within the mainstream medical system of Indigenous medical practices. She agrees, along with the others, that for there to be any relationship, there needs to be a recognition of Indigenous issues and rights by health authorities.
For Dallaire, it ultimately boils down to the paradox of forming a relationship between the colonized and the colonizer."It's the whole thing of colonization around our medicines," said Dallaire. "They [non-Indigenous people] never respected the way we lived, our people. So what would make us think they would embrace our medicines now? It's a long history to let go of."
"It's really hard to empower people you're still oppressing."
Email Devika Desai at devika.desai@ryerson.ca