University Elders come from diverse backgrounds and bring unique abilities to the position, along with in-depth knowledge and secular education
Story by Maria Iqbal
Feature images by Maria Iqbal
Students at Wilfrid Laurier University may soon have a new kind of teacher at their Brantford campus: an Indigenous Elder.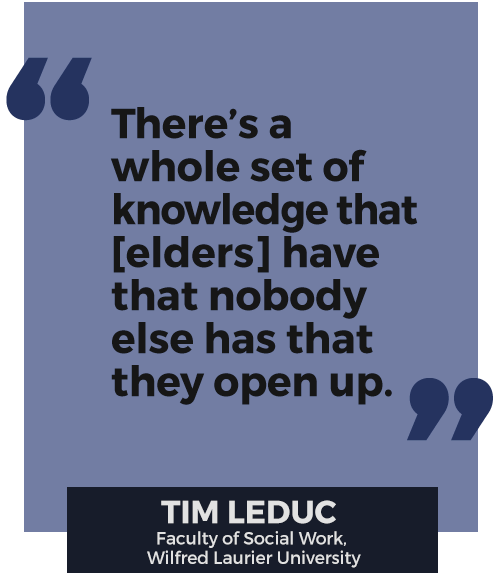 While there are already Elders who teach part-time there and a permanent Elder at Laurier's Kitchener-Waterloo location, the new full-time Elder position will be the first of its kind at the Brantford campus. Major universities like York, U of T and Ryerson all have their own Elder-in-Residence programs and similar programs are in place at postsecondary institutions across Canada.
Toronto universities have been appointing Indigenous Elders since at least 1994 to help bring Indigenous perspectives into the education system and offer support to students. They come from diverse backgrounds and bring unique abilities to the position, along with in-depth Indigenous knowledge and secular education. In 2009, the Ontario government introduced the Postsecondary Education Fund for Aboriginal Learners to support Indigenous student learning, including through Elder programs.
Tim Leduc, assistant professor at the Faculty of Social Work at Laurier, is working alongside other departments to bring the full-time Elder to Brantford for next year. In the social work program, there are already Elders who co-teach courses from indigenous perspectives on a part-time basis.
"The Elder takes a lead in bringing in the cultural perspective," he says, noting that he co-taught a course on holistic healing this year in a contract with an elder. The full-time Elder position is an attempt to make the co-teaching approach sustainable, Leduc says, so that a new contract doesn't have to be made each time. He notes however that the Elder will serve the entire campus, not an individual faculty.
Elders are hired through an application process, Leduc adds. While he didn't give specifics about the compensation that would be offered to the Elder at Brantford, he says that generally, full-time Elder positions "should be comparable with the faculty positions" at a university.
Elders have "learned under a particular position longer, more often than not, than most academics have learned, and there's a whole set of knowledge that they have that nobody else has that they open up," Leduc says. "They have to do the same kinds of work in relation to teaching and service and then also their own community involvement."
"The community recognizes you as an Elder"
The term "Elder" is a bit of a misnomer; unlike in English, the word "Elder" is a verb in Ojibwe and Cree that describes what they do. An Elder doesn't have to be of a certain age, "although there is the assumption that we accumulate wisdom as we grow older, but no guarantee on that one," jokes Ryerson Elder Joanne Dallaire. Dallaire became an Elder for Ryerson's Aboriginal Education Council in 2008, though she has been sharing Indigenous teachings at the university as early as 2002 and is now recognized as an Elder for the university.
"You don't jump into being an Elder. It's a gradual accumulation of experiences and knowledge," she says. "The community recognizes you as an Elder."
Because the role has a lot to do with a person's reputation in the Indigenous community, Dallaire says it's hard to pin down exactly when she became recognized as an Elder, though she was by at least 1992 by some in her Peterborough community.
Elders also come from a variety of educational backgrounds. Andrew Wesley, who is the Elder at First Nations House at the University of Toronto, is an Anglican priest with a master's degree in Divinity from U of T and was also trained as a civil engineering technician.
An Omushkego Cree from James Bay, Wesley has been a recognized Elder at U of T for about three years. He meets with students, does guest lectures on campus and offers teachings at First Nations House. People also approach Wesley for grief counselling and he facilitates healing circles.
Wesley, who went to a residential school for nine years, says non-aboriginal students also approach him for grief counselling when they learn about "the dark history" of Canada's treatment of Indigenous peoples.
He says the Elder position is like being a "grandfather away from home." Indigenous students can talk to the elder and feel a greater sense of community and belonging. He also offers advice to the university as part of its Council of Elders.
"When you become an elder, you become a teacher," he says. "You carry your traditional ways, protect your traditional way, teach young people."
More than a "tick in a box"
Amy Desjarlais, whose traditional name is White Raven Woman with Turquoise Eyes, has been working as part of the Elders-in-Residence program at York since September, but says Knowledge-Keeper more accurately describes her role.
"It's a term that recognizes that we're still learning and that we do have cultural knowledge in our own right, but it's still something that we're working towards and with," Desjarlais says.
Because of the Truth and Reconciliation Commission, Desjarlais says the workload on Knowledge-Keepers increased so she helps prepare up-and-coming Knowledge-Keepers to take leadership in sharing their teachings, for instance by performing opening and closing prayers for ceremonies.
She adds that it's challenging for Knowledge-Keepers and Elders to repeatedly go over basic teachings.
"There aren't enough of the general Canadian population that are interested or aware of how to engage. There's a constant need to continuously teach the basic teachings," she says. "That takes time away from responding to the deeper work of how do we move forward."
Tokenism is another problem and Desjarlais says that people shouldn't engage with Elders just to "tick a box."
"There's a general feeling that 'oh we have to do a land acknowledgement now,'" she says. "But I don't think there's a full understanding of why those are in place."
People should understand "why you're engaging an Elder, why you're asking him to do this opening and what the follow-up is going to be after that," she adds. "What is your relationship with the indigenous community after the fact?
Jean Becker, the senior advisor of indigenous initiatives at Laurier, agrees. "One of the challenges we always have in institutions is convincing people of the value of Elders, because in academia, value is usually found in the number of degrees you have, the number of papers you write."
Becker was the first Elder hired at Kitchener-Waterloo and says since the position was under the faculty collective agreement at Laurier, she didn't personally feel tokenized. "I was teaching, I had the same pay and status as a faculty member," she says.
"Tokenism occurs because Elders are not brought in and made as an embedded part of the institution and with an understanding that they are bringing the same value as somebody with a PhD," she adds.
Becker will supervise the Elder position at Brantford, which she says is currently being offered as a two-year contract, but hopes it will become permanent. Hiring is expected to be completed over the summer in time for the next school year.
Read the transcript
Email Maria Iqbal at maria.iqbal@ryerson.ca